4TRS668 - Tourism in the Mediterranean: Comparative Study
Academic Year 2017/18
Essential reading- general

16 items

Island tourism: sustainable perspectives - Jack Carlsen, Richard Butler c20111845936795,9781845936792

Book Essential please read the following section of this book: Ruggieri, G. (2011) Tourism in Mediterranean Islands: a Comparative Analysis.

Essential reading (Malta and Gozo)

33 items

Please use library search to look for the following further readings

Apostopoulos, Y and Sonmez, S (2000) New Directions in Mediterranean Tourism: Restructuring and Cooperative Marketing in the Era of Globalization. Thunderbird International Business Review. 42(4) 381-392
Attard, M (2012) Reforming the urban public transport bus system in Malta: Approach and acceptance. Transportation Research Part A: Policy and Practice 46(7) 981-992.
Attard, M and Enoch, M (2012) Policy transfer and the introduction of road pricing in Valletta, Malta. Transport Policy 18 544–553.
Azzopardi, R (2009) Malta's Open Economy: Weathering the Recessional Storm? South European Society and Politics 14(1) 103-120
Baldacchino, G (2002) A Nationless State? Malta, National Identity and the EU. West European Politics 25(4), 191-206.
Bell, S and Morse, S (2005) Holism and Understanding Sustainability Systematic Practice and Action Research 18(4) 409-426.
Bianco, L (2006) Malta: housing and real estate, 1980-2005. Architectural Design 76(3) - 76
Bastakis, C, Buhalis, D and Butler, R (2004) The Perception of Small and Medium Sized Tourism Accommodation Providers on The Impacts of The Tour Operators' Power in Eastern Mediterranean. Tourism Management 25(2), 151-170.
Bull, C and Weed, M (1999) Niche Markets and Small Island Tourism: The Development of Sports Tourism in Malta. Managing Leisure 4(3) 142-155.
Camilleri, M (2004) Environmental Capacity of a Small Island State: Planning for Sustainable Development in Malta. Town Planning Review 75(1) 67-94.
Camilleri, M (2004) From the inside looking out: knowledge, justice and modernity in the assessment of St. Julian's environmental capacity, Local Environment: The International Journal of Justice and Sustainability 9(1) 45-63
Camilleri, S & Falzon, J (2013) The Challenges of Productivity Growth in the Small Island States of Europe: A Critical Look at Malta and Cyprus. Island Studies Journal 8(1) 131-164.
Cassar, L (1997) Settlement Patterns in the Maltese Islands: From Early Colonization to Pre-Independence. Geojournal 41(2) 137-144.
Cassar, M (2003) A Project for the Integrated Management of Protected Coastal Areas in Malta. Journal of Coastal Conservation 9 73-80
Chapman, D (1999) Malta: Conservation in a Transnational System. Built Environment 25(3) 259-271.
Chapman, D (2005) Knowing and Unknowing: Development and Reconstruction Planning in Malta from 1943. Journal of Urban Design 10(2) 229-252.
Creighton, O (2007) Contested Townscapes: the Walled City as World Heritage. World Archaeology 39(3) 339-54
Debono‐Roberts, R (2003) Festa‐catholicism and media religion: the reproduction and transformation of the festa in Malta, History and Anthropology 14(4) 383-405
Doublet, J and Bond, A (2005) Development Control and the Natural Environment – The Maltese Connection European Planning Studies 13(3) 407-433
Dykes, A (2002) Mass Movements and Conservation Management in Malta. Journal of Environmental Management 66 77-89
Evans, M (2006) At the Interface Between Theory and Practice – Policy Transfer and Lesson Drawing. Public Administration 84(2) 479-515.
Farsari, Y et al (2007) Sustainable Tourism Policy for Mediterranean Destinations: Issues and Interrelationships. International Journal of Tourism Policy 1(1) 58-78.
Fsadni, C and Selwyn. T (1996) Sustainable Tourism in Mediterranean Islands and Small Cities, Medcampus
Gauci, J et al (2013) Collective accommodation establishments in Corfu, Cyprus, and Malta: a comparative study of online prices, Anatolia 24(3) 319-336.
Gonzalez, S (2011) Bilbao and Barcelona 'in Motion'. How Urban Regeneration 'Models' Travel and Mutate in the Global Flows of Policy Tourism. Urban Studies, 48(7) 1397–1418
Gui, L & Russo, A (2011) Cruise ports: a strategic nexus between regions and global lines-evidence from the Mediterranean, Maritime Policy & Management: 38(2) 129-150
Hall, CM (2011) Policy learning and policy failure in sustainable tourism governance: from first- and second-order to third-order change? Journal of Sustainable Tourism, 19(4-5) 649-671.
Hauteserre, A (2003) A Response to 'Misguided Policy Initiatives in Small-island Destinations: why do Upmarket Tourism Policies Fail?' Tourism Geographies 5(1) 49-53
Hoti, S, McAleer, M and Shareel, R (2007) Modelling International Tourism and Country Risk Spillovers for Cyprus and Malta. Tourism Management 28(6) 1472-1484.
Ioannides, I et al (2001) Mediterranean Islands and Sustainable Tourism Development. Continuum.
Ioannides, D and Holcomb, B (2003) Misguided Policy Initiatives in Small-Island Destinations: Why Do Up-Market Tourism Policies Fail? Tourism Geographies 5(1)39-48
James, O and Lodge, M (2003) The Limitations of Policy Transfer and Lesson Drawing for Public Policy Research. Political Studies Review 1 179-193
Kotzebue, J, Bressers, H, & Yousif, C (2010). Spatial misfits in a multi-level renewable energy policy implementation process on the Small Island State of Malta. Energy Policy 38(10) 5967-5976.
Markwick, M (2000) Golf Tourism Development: Stakeholders, Differing Discourses and Alternative Agendas – the Case of Malta. Tourism Management 21(5) 515-524.
Markwick, M (2001) Postcards from Malta Annals of Tourism Research 28(2) 417-438.
Markwick, M (2001) Tourism and the Development of Handicraft Production in the Maltese Islands. Tourism Geographies 3(1) 29-51.
Mitchell, J (2002) Corruption and Clientism in a 'Systemless System': the Europeanization of Maltese Political Culture. South European Society and Politics 7(1) 43-62.
Mitchell, J (2003) Looking Forward to the Past: National Identity and History in Malta. Identities: Global Studies in Culture and Power 10 377-398.
Nash, R (2003) The use and application of Rose's theory of lesson drawing in peripheral areas of Scotland. International Journal of Tourism Research 5 pp.133-145
Pace, A and Cutajar, N (2001) Historic Centre Management in Malta. in R. Pickard (ed) Management of Historic Centres. Spon.
Papathedorou, A (2003) Corporate Strategies of British Tour Operators in the Mediterranean Region. An Economic Geography Approach. Tourism Geographies 5 (3) 280-304.
Pirotta, G (2001) A New Creation or an Image and Likeness? The Maltese Experience of Establishing Local Government in a Centralized Micro State Public Organisation Review: A Global Journey 1, 245-260.
Rodríguez, O et al.(2008)The Sustainability of Island Destinations: Tourism Area Life Cycle and Teleological Perspectives. The Case of Tenerife. Tourism Management 29(1) 53-65
Rose, R (2005) Learning from Comparative Public Policy. A Practical Guide. London: Routledge.
Tunbridge, J (2008) Malta: Reclaiming the Naval Heritage? International Journal of Heritage Studies 14(5) 449-466.
Turegano, M (2006) Dependency and Development Patterns in Tourism: A Case Study in the Canary Islands Tourism and Hospitality Planning and Development 3(2) 117-130.
Williams, A et al (2000) Tourism and International Retirement Migration: New Forms of an Old Relationship in Southern Europe. Tourism Geographies 2(1) 28-49.
Williams, A (2011) Definitions and typologies of coastal tourism beach destinations. In Jones, A. and Phillips, M (Eds) Disappearing destinations: Climate change and future challenges for coastal tourism. CABI.
Profile Required
Reading intentions and notes are stored against your user profile. Please create a profile to use this feature.
My notes
You must be logged in to add a note
What are item notes?
You can use item notes to make personal notes on any of your reading items. Notes are private to you and will not be shown to other users.
You can review your item notes from the list, the item page or from your profile page.
---
How do I create an item note?
To make notes, first you must be logged in. Once logged in, simply click Add note? next to the list item you wish to make notes on. You can also make notes at the bottom of every item's detail page.
Your note will be saved automatically as you type.
Have you read this?
You must be logged in to set a reading intention
What are reading intentions?
Setting up reading intentions help you organise your course reading. It makes it easy to scan through your lists and keep track of progress. Here's an example of what they look like: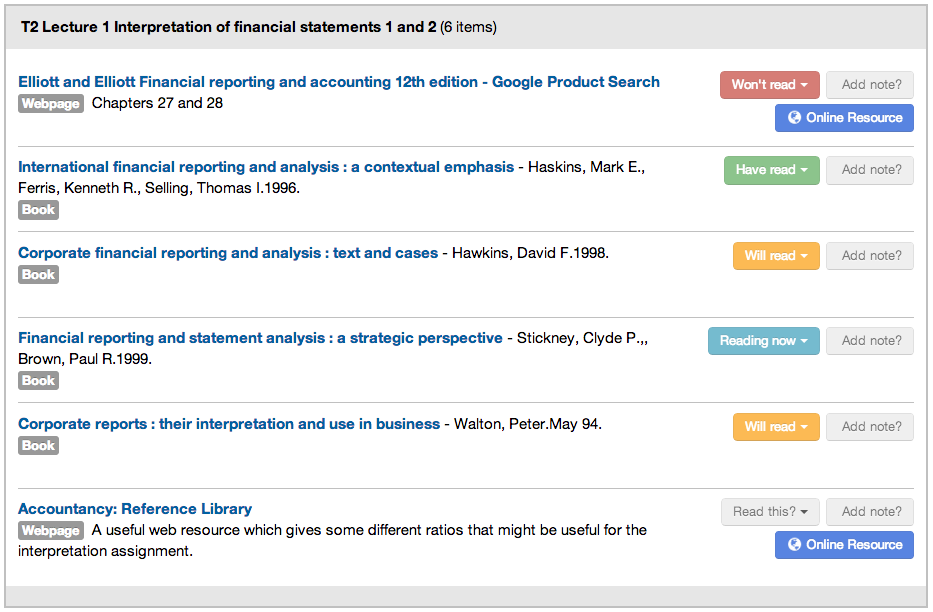 Your reading intentions are also stored in your profile for future reference.
---
How do I set a reading intention
To set a reading intention, first you must be logged in. Once logged in, click Read this? next to the list item you wish to set a reading intention for.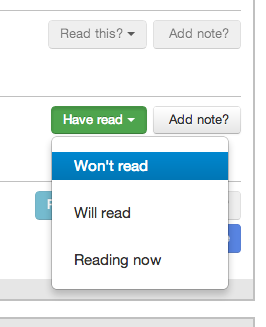 You can also set the reading intention from every item's detail page.